| | | |
| --- | --- | --- |
| | Malaria Information Page | |
---
The ABCD of
Malaria Treatment

A: be Aware of the risk of malaria if you are travelling to a foreign country.
B: avoid mosquito Bites by taking appropriate measures. Reducing the number of Bites reduces the chances of getting malaria.
C: Comply with the appropriate prophylactic drug regimen for the area you are visiting. This is vitally important since failure to comply places you at great risk. Studies have shown that there is a reduced risk of contracting malaria even if you take the wrong regimen.

D: early Diagnosis of malaria if symptoms manifest following travel to a malarious region is vital. Malaria can be fatal but early diagnosis and treatment is usually 100% effective.

Malaria is a serious and sometimes fatal disease which is widespread in many tropical and subtropical countries. It is caught by being bitten by an infected mosquito that is carrying the malaria parasites in its saliva.

The malaria parasite is a microscopic organism called a Plasmodium and it belongs to the group of tiny organisms known as protozoans. There are four types of plasmodium: P. falciparum (the most dangerous), P. vivax, P. ovale and P. malariae. The species of mosquito that carries the malaria parasites is the Anopheles mosquito.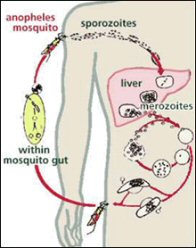 These parasites enter the host's bloodstream when bitten by an infected mosquito and then migrate to the liver where they multiply before returning back into the bloodstream to invade the red blood cells.

The parasites continue to multiply inside the red cells until they burst releasing large numbers of free parasites into the blood plasma causing the characteristic fever associated with the disease. This phase of the disease occurs in cycles of approximately 48 hours.

The free parasites are then able to infect any mosquito that feeds on the host's blood during this phase. The cycle then continues as the parasites multiply inside the mosquito and eventually invade its salivary glands. (see the plasmodium life cycle below).

Malaria occurs in over 100 countries and more than 40% of the people in the world are at risk. Large areas of Central and South America, Hispaniola (Haiti and the Dominican Republic), Africa, the Middle East, the Indian subcontinent, Southeast Asia, and Oceania are considered malaria-risk areas.
The World Health Organisation estimates that each year 300-500 million cases of malaria occur worldwide and more than two million people die of malaria.

Between 1990 - 2009, every year approximately 1,800 British travellers return home with malaria. The UK is one of the biggest importers of malaria into Europe.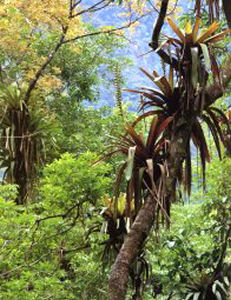 Symptoms of malaria include fever and flu-like illness, including shaking chills, headache, muscle aches, and tiredness. Nausea, vomiting, and diarrhoea may also occur. Malaria may cause anaemia and jaundice (yellow colouring of the skin and eyes) because of the loss of red blood cells. Infection with one type of malaria, P. falciparum, if not promptly treated, may cause kidney failure, seizures, mental confusion, coma, and death.

For most people, symptoms begin 10 days to 4 weeks after infection, although a person may feel ill as early as 8 days or up to 1 year later. Two kinds of malaria, P. vivax and P. ovale, can relapse; some parasites can rest in the liver for several months up to 4 years after a person is bitten by an infected mosquito . When these parasites come out of hibernation and begin invading red blood cells, the person will become sick.

Any traveller who becomes ill with a fever or flu-like illness while travelling and up to one year after returning home should immediately seek professional medical care. You should tell your GP that you have been travelling in a malaria-risk area.

Malaria can be cured with prescription drugs. The type of drugs and length of treatment depend on which kind of malaria is diagnosed, where the patient was infected, the age of the patient, and how severely ill the patient was at start of treatment.


Anybody travelling to an area where malaria is endemic is at risk of catching the disease. Lately there has been an increase in the cases of malaria reported in the UK - in 1993 there were 1922 reported cases in the UK, including five deaths. All caught the disease abroad and almost all cases could have been prevented.

Be aware of the fact that adventure travellers are usually more exposed to malaria than ordinary travellers due to the nature of their activities and the fact that they travel to the more remote locations.
---
The Malaria Cycle (Plasmodium life cycle)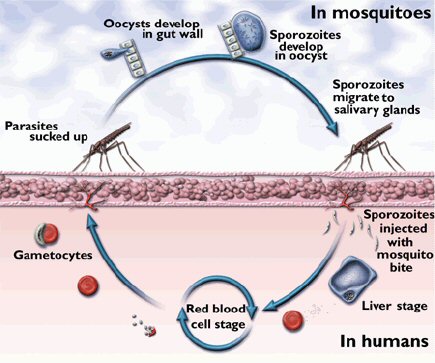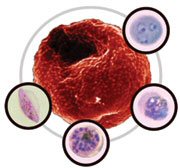 Ruptured blood cells release free parasites (gametocytes) into the
host's bloodstream.

The human host shows the classic malaria symptoms at this stage.

The gametocytes are sucked up by a feeding mosquito and the cycle begins again.
---
The Prevention and Treatment of Malaria
Malaria is a preventable infection that can be fatal if left untreated.
You cannot be vaccinated against malaria, but you can protect yourself.



Click on the image (right) to view a video presentation showing the dangers of Malaria, how easily it can spread, and it's effects on humans.
Hope for new malaria vaccine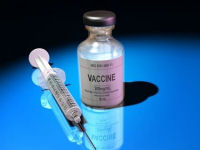 The world's first malaria vaccine, has received a green light for future use in babies in sub-Saharan Africa.

The European Medicines Agency gave the Mosquirix vaccine a favorable review after 30 years of research by the Malaria Vaccine Initiative. The drug will now be examined by the World Health Organization.

Individual countries will also need to give the vaccine their final approval before it can be administered to children.

The trials showed the vaccine was most effective in newborn children between the ages of five and 17 months, cutting the number of malaria cases by almost a half. The number of cases in younger babies dropped by 27%.

Mosquirix is aimed at young children because their immune system is still developing. There is currently no vaccine available to travellers.

Unlike other vaccines that tackle viruses and bacteria, Mosquirix has been designed to prevent illness caused by a parasite. It works by stopping the malaria parasite maturing and multiplying in the liver, after which it would normally enter the patient's bloodstream and trigger the disease symptoms.

The vaccine is given out in three doses one month apart, with an additional booster dose a year and half later to maintain protection.

Even though malaria is preventable and treatable, the mosquito born disease killed 584,000 people in 2013, with 90% of the deaths occurring in sub-Saharan Africa. Of the victims, 83% were children under the age of five.

The World Health Organization lists malaria as the fifth biggest killer in sub-Saharan Africa.

The vaccine is not yet licensed in countries where malaria is endemic, and the WHO says 2017 is the soonest that could happen.

Avoidance of Bites
Mosquitoes cause much inconvenience because of local reactions to the bites themselves and from the infections they transmit. Mosquito bites spread other diseases such as yellow fever, dengue fever and Japanese B encephalitis.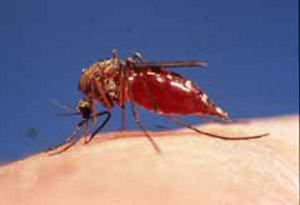 Mosquitoes bite at any time of day but the anopheles bites in the night with most activity at dawn and dusk. If you are out at night wear long-sleeved clothing and long trousers.

Mosquitoes may bite through thin clothing, so spray an insecticide or repellent on them. Insect repellents should also be used on exposed skin.

Spraying insecticides in the room, burning pyrethroid coils and heating insecticide impregnated tablets all help to control mosquitoes. If you are sleeping in an unscreened room a mosquito net (which should be impregnated with insecticide) is a sensible precaution. If sleeping out of doors it is essential. Portable, lightweight nets are available.

NOTE: Things like Garlic, Vitamin B and ultrasound devices do not prevent mosquito bites.
Taking Anti-Malaria Tablets
It should be noted that no prophylactic regimen is 100% effective and advice on malaria prophylaxis changes frequently. There are currently five prophylactic regimens used (A,B,C,D & E), due to the differing resistance that exists by the malaria parasites to the various drugs used. (See the above map of Malaria Endemic Areas).
The tablets you require depend on the country to which you are travelling (see the table page). Start taking the tablets before travel take them absolutely regularly during your stay, preferably with or after a meal and continue to take them after you have returned. This is extremely important to cover the incubation period of the disease.
Prompt Treatment

If you develop a fever between one week after first exposure and up to two years after your return, you should seek medical attention and inform the doctor that you have been in a malarious area.


Anyone with suspected malaria should be treated under medical supervision as soon as possible. If malaria is diagnosed then treatment is a matter of urgency. Treatment should not normally be carried out by unqualified persons.


The drug treatment of malaria depends on the type and severity of the attack. Typically, Quinine Sulphate tablets are used and the normal adult dosage is 600mg every twelve hours which can also be given by intravenous infusion if the illness is severe.

Remember: Prevention is better than cure and over two million people die from malaria every year. It is a very serious illness!


Side Effects of Anti-Malarials
Like all medicines, anti-malarials can sometimes cause side-effects:
Proguanil (Paludrine) can cause nausea and simple mouth ulcers.
Chloroquine (Nivaquine or Avloclor) can cause nausea, temporary blurred vision and rashes.
Patients with a history of psychiatric disturbances (including depression) should not take mefloquine as it may precipitate these conditions. It is now advised that mefloquine be started two and a half weeks before travel.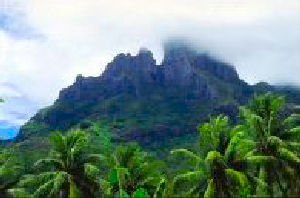 Doxycycline does carry some risk of photosensitisation i.e. can make you prone to sunburn.
Malarone is a relatively new treatment and is virtually free of side effects. It is licensed for use in stays of up to 28 days but there is now experience of it being taken safely for up to three months.
No other tablets are required with mefloquine or doxycycline or Malarone.


Drug Resistance

It is the plasmodia that cause malaria that develop resistance to anti-malarial drugs not the mosquitoes that transmit the disease.

Resistance to antimalarial drugs is proving to be a challenging problem in malaria control in most parts of the world. Since the early 60s the sensitivity of the parasites to chloroquine, the best and most widely used drug for treating malaria, has been on the decline.

Drug resistance is the ability of a parasite species to survive and multiply despite the administration of a drug in doses equal to or higher than those usually recommended but within the limit of tolerance.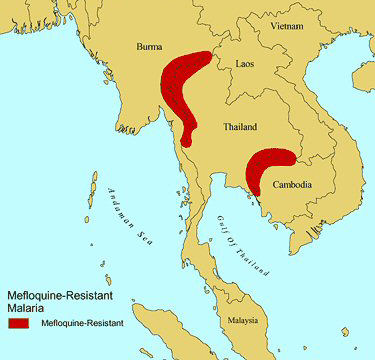 Newer antimalarials have been developed in an effort to tackle this problem, but all these drugs are either expensive or have undesirable side effects.

The discovery of chloroquine revolutionalised the treatment of malaria, pushing quinine to the sidelines.

However, after a variable length of time, the parasites, especially the falciparum species, have started showing resistance to these new drugs.

Resistance is most commonly seen in P. falciparum whereas only sporadic cases of resistance have been reported in P. vivax malaria.

Resistance to chloroquine is most prevalent, while resistance to most other antimalarials has also been reported.

Resistance to chloroquine began from two epi-centres; Colombia (South America) and Thailand (South East Asia) in the early 1960s. Since then, resistance has been spreading world wide.

Recently, cases of mefloquine resistance have been reported from areas of Thailand bordering with Burma and Cambodia (see map above). Travellers to Thailand are therefore advised to avoid using mefloquine when travelling to these risk areas.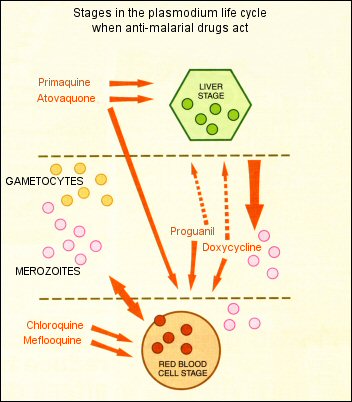 Because mefloquine is structurally similar to chloroquine, cross resistance is possible due to the prolonged half life of mefloquine.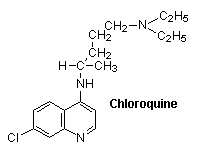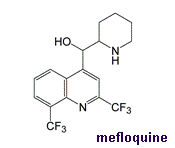 ---
Further in-depth information about the malaria risk to travellers
can be obtained from the following documents (pdf format):-
---
For a country by country guide to travel vaccination requirements;
Click on the required region of the map below for a list of countries in that region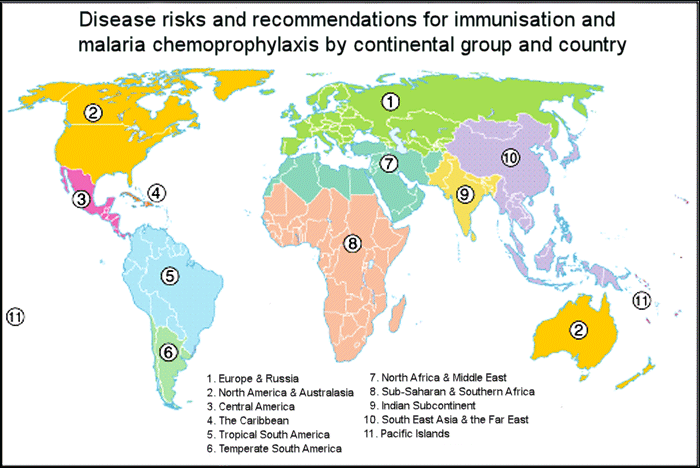 ---
DoctorFox: Anti-malaria tablets on prescription:
malaria prevention for trips of 1 week to 1 year to all countries. Medicine from NHS pharmacy - UK regulated.
---
The information supplied is derived from a number of reliable sources and is compared and compiled into the alphabetical lists found on this web site.

Countries requiring malaria prophylaxis should be regarded as being at risk all year round and you should also assume that the whole country is at risk unless otherwise indicated. The malaria regimen is the recommended regimen for a country. Use of the incorrect regimen may not provide adequate cover.

When there are two different regimens for the same country, they are area specific. Read the text to find out which regimen is suitable for the area you require.

Where regimen 1 is indicated there is Chloroquine resistance in that region and it is very likely to be the Falciparum malaria which is the most serious form of the disease. In this instance it is vitally important that travellers take adequate prophylaxis.

Remember:- No prophylaxis is 100% effective but not taking anti-malarials where they are indicated will put you at greater risk should you get the disease. Remember - Malaria is a killer!
The Different Drug Regimens

Regimen 1
Mefloquine one 250mg tablet weekly. OR
Doxycycline one 100mg capsule daily. OR
Malarone one tablet daily.
Regimen 2
Chloroquine 300mg weekly (2x150mg tablets). PLUS
Proguanil 200mg daily (2x100mg tablets).
Regimen 3
Chloroquine 300mg weekly (2x150mg tablets) OR
Proguanil 200mg daily (2x100mg tablets).
Regimen 4
No prophylactic tablets required but anti mosquito measures should be strictly observed: Avoid mosquito bites by covering up with clothing such as long sleeves and long trousers especially after sunset, using insect repellents on exposed skin and, when necessary, sleeping under a mosquito net.
.
| | |
| --- | --- |
| Proguanil | 100mg tablets are supplied as Paludrine Tablets |
| Chloroquine | 150mg tablets are supplied as Nivaquine or Avloclor Tablets |
| Mefloquine | 250mg tablets are supplied as Lariam Tablets |
| Malarone | is a combination of Atovaquone 250mg and Proguanil 100mg |
Length of Prophylaxis

Chloroquine, Proguanil & Maloprim
Start one week before travel, throughout your stay in an endemic area and continue for four weeks after return.
Mefloquine (Lariam)
Start two and a half weeks before travel, throughout your stay in an endemic area and continue for four weeks after return.
Doxycycline
Start two days before travel, throughout your stay in an endemic area and continue for four weeks after return.
Malarone
Start two days before travel, throughout your stay in an endemic area and continue for one week after return.

IMPORTANT!


Take the tablets absolutely regularly, preferably with or after a meal.
Long Term Use of Anti-Malaria Drugs

Chloroquine
May be taken for periods exceeding five years.
Paludrine
May be taken for periods exceeding five years.
Maloprim
Can be taken for periods up to one year.
Mefloquine
Can be taken for periods up to one year.
Doxycycline
Can be taken for periods up to six months.
Malarone
Can be used for travel periods up to one year.
Compatibility of Anti-Malaria Drugs

Pregnancy

Breast Feeding

Epilepsy

Psoriasis

Altitude

Scuba Diving

Chloroquine

OK

OK

NO

NO

OK

OK

Paludrine

OK

OK

OK

OK

OK

OK

Mefloquine

OK*

NO

NO

OK

NO

NO

Doxycycline

NO

NO

OK

OK

OK

OK

Malarone

NO

NO

OK

OK

OK

OK

* These drugs are not suitable during the first trimester of pregnancy.
Childrens' Dosages:
Calculate the dose by weight rather than by age if possible

Age/Weight

Chloroquine
(once weekly)

Proguanil
(once daily)

Mefloquine
(once weekly)

Doxycycline
(once daily)

Malarone
(once daily)

0 - 12 weeks
under 6kg

1/4 tablet

1/4 tablet

-

-

-

3 - 12 months
6 - 10kg

1/2 tablet

1/2 tablet

1/4 tablet

-

-

1 - 3 years
10 - 16kg

3/4 tablet

3/4 tablet

1/4 tablet

-

1 child's
tablet

4 - 7 years
16 - 25kg

1 tablet

1 tablet

1/2 tablet

-

1 child's
tablet

8 - 12 years
25 - 45 Kg

11/2 tablets

11/2 tablets

3/4 tablet

-

2 child's
tablets

13 years and over
45kg and over

2 tablets

2 tablets

1 tablet

1 capsule

1 adult
tablet

The above dosages are based upon the guidelines issued by
the Advisory Committee on Malaria Prevention.
Adult Dosages

Regimen

Dose for
Chemoprophylaxis

Usual amount
per tablet (mg)

Areas without drug resistance:

Chloroquine

Proguanil

2 tablets weekly

2 tablets daily

150mg (base)

100mg

Areas of little chloroquine resistance (poorly effective where marked resistance):
Chloroquine plus
Proguanil
2 tablets weekly
2 tablets daily
150mg (base)
100mg
Areas of chloroquine resistant P. falciparum:

Mefloquine

Doxycycline

Malarone
(atovaquone & proguanil)

1 tablet weekly

1 tablet/capsule daily

1 tablet daily

250mg (228 in USA)

100mg

250mg atovaquone &
100mg proguanil
Countries where there is currently no risk of malaria:
Albania
Algeria
Antigua/Barbuda
Antilles
Australia
Austria
Azores
Bahamas
Bahrain
Barbados
Belarus
Belgium
Bermuda
Brunei
Bulgaria
Canada
Cayman Islands
Chile
Cook Islands
Croatia
Cuba
Czech Republic
Cyprus
Dominica
Easter Islands
Estonia
Denmark

Fiji
Finland
France
Galapagos
Germany
Greece
Greenland
Grenada
Guadeloupe
Guam
Hawaii
Holland
Hungary
Iceland
Ireland
Israel
Italy
Jamaica
Japan
Jordan
Kazakhstan
Kiribati
Kuwait
Latvia
Lebanon
Lesotho

Lithuania
Luxembourg
Macedonia
Macao
Madeira
Maldives
Malta
Margarita Island
Martinique
Moldova
Mongolia
Montserrat
Nauru
New Caledonia
New Zealand
Niue
Norway
Pitcairn Island
Poland
Portugal
Puerto Rico
Qatar
Reunion Islands
Romania
Russia
St. Helena

St. Kitts & Nevis
St. Lucia
St. Vincent & Grenadines
Samoa
Seychelles
Sicily
Singapore
Slovakia
Slovenia
Spain
Sweden
Switzerland
Tahiti
Taiwan
Tenerife
Trinidad & Tobago
Tunisia
Ukraine
United Arab Emirates
United Kingdom
Uruguay
Uzbekistan
USA
Virgin Islands
Wake Island
Yugoslavia
Malaria prophylaxis for Sub-Saharan Africa

Risk

Country

Preferable
regimen

Alternative
regimen

Low risk

Cape Verde - Remember, low risk if fever develops.
Mauritius - Except a few rural areas where chloroquine prophylaxis is appropriate.

Avoid insect bites.
Risk in parts of the country Some chloroquine resistance present.

Botswana - Only in the northern half of the country - November to June.
Mauritania - All year round in the south. November to June in the north.
Zimbabwe - Areas below 1,200 metres - November to June. All year long in the Zambezi Valley where Doxycycline, Mefloquine or Malarone are preferable. Risk is negligible in Harare and Bulawayo.

Chloroquine
PLUS
Proguanil
Doxycycline
OR
Mefloquine
OR
Malarone
Risk very high, or locally very high. Chloroquine resistance very widespread.

Angola
Benin
Burkina Faso
Burundi
Cameroon
Central African Republic
Chad
Comoros
Congo
Djibouti
Equatorial Guinea
Eritrea

Gabon
Gambia
Ghana
Guinea
Guinea Bissau
Ivory Coast
Kenya
Liberia
Madagascar
Malawi
Mali
Mozambique
Niger
Nigeria

Principe
Rwanda
Sao Tome
Senegal
Sierra Leone
Somalia
Sudan
Swaziland
Tanzania
Togo
Uganda
Zaire
Zambia

Ethiopia - Areas below 2,200 metres. No risk in Addis Ababa
Namibia - The northern third of the country - November to June. All year long around the Kavango and Kunene rivers.
South Africa - North east, low altitude areas of Mpumalanga and Northern Provinces, Northeast KwaZulu-Natal as far south as the Tugela river. Risk present in Kruger National Park.
Zimbabwe - The Zambezi Valley.

Doxycycline
OR
Mefloquine
OR
Malarone

Chloroquine
PLUS
Proguanil - (limited protection)
Malaria prophylaxis for North Africa, Middle East & South West Asia

Risk

Country

Preferable
regimen

Alternative
regimen

Risk very low.

Algeria - Virtually no risk
Egypt - Main tourist areas are malaria free.
Georgia - Some south eastern villages July to October.
Kyrgystan - Some southern and western areas.
Libya
Morocco - A few rural areas only limited risk.
Turkey - Most tourist areas.
Uzbekistan - Sporadic cases in extreme south east only.

Avoid mosquito bites
Risk low

Armenia - The whole country June to October.
Azerbaijan - Southern border area June to October.
Egypt - El Faiyum region only, June to October.
Iraq - Basrah and rural north, May to November.
Syria - Northern border, May to October.
Turkey The plain around Adana, Side & south east Anatolia, March to November.
Turkmenistan - The south east only, June to October.

Chloroquine
Proguanil
Risk present. Some chloroquine resistance present.

Afghanistan - Areas below 2,000 metres, May to November.
Iran
Oman - Remote rural areas only.
Saudi Arabia - The whole country except northern, eastern and central provinces, Asir plateau, and western border cities where there is very little risk. No risk in Mecca.
Tajikistan - Southern border areas, June to October.
Yemen - No risk in Sana'a city.

Chloroquine
PLUS
Proguanil
Malaria prophylaxis for South Asia (Indian Subcontinent)

Risk

Country

Preferable
regimen

Alternative
regimen

Very low risk.

Maldives - no risk
India - No risk in parts of mountain states of the north.

Avoid mosquito bites
Risk variable. Chloroquine resistance usually moderate.

Bangladesh - The whole country except Chittagong Hill Tracts. No risk in Dhaka City.
Bhutan - Southern districts only.
India - All areas below 2,000 metres, including Goa.
Nepal - Areas below 1,500 metres, especially Terai districts. No risk in Kathmandu.
Pakistan - Areas below 2,000 metres.
Sri Lanka - No risk in Colombo.

Chloroquine
PLUS
Proguanil
Will vary locally.
Risk high.
Chloroquine resistance high.

Bangladesh - Chittagong Hill Tract Districts only.
India - Assam region.

Doxycycline
OR
Mefloquine
OR
Malarone

Chloroquine
PLUS
Proguanil
Malaria prophylaxis for South East Asia

Risk

Country

Preferable
regimen

Alternative
regimen

Risk very low. Remember malaria is possible if fever develops.

Bali - Part of Indonesia
China - Main tourist areas.
Hong Kong
Indonesia - Jakarta, main cites and tourist resorts including Java.
Malaysia - Most areas including Kuala Lumpur and Penang.
North Korea - A few southern areas have limited risk.
Philippines - Low risk in main cities, Cebu, Bohol & Catanduanes. No risk in Manilla.
South Korea - Limited risk in the extreme northwest.
Sarawak - (Borneo) except deep forest areas.
Thailand - Bangkok and main tourist areas including Pattaya, Phuket, Krabi, Hua Hin, Koh Samui, Kanchanaburi, Damnoen Sadouak, Ayutthaya, Sukhothai, Khon Kaen & Chiang Mai.

Avoid mosquito bites
Risk variable. Some chloroquine resistance.

Indonesia - Areas other than Bali and low risk cities, or Irian Jaya and Lombok where the risk is high and chloroquine resistance is present.
Philippines - Rural areas below 600 metres.
Malaysia and Sarawak (Borneo) - Deep forest regions of penninsular Malaysia and Sarawak.

Chloroquine
PLUS
Proguanil
Will vary locally.
Risk substantial.
Chloroquine resistance common.

Borneo - Sabah
Cambodia - Most of the country except Phnom Penh where there is no risk.
China - Yunnan and Hainan provences only. All other remote areas use chloroquine.
East Timor
Irian Jaya & Lombok
Laos - except Vientiane where there is no risk.
Myanmar - (formerly Burma).
Sabah - Part of Malaysia (Borneo)
Vietnam - Most rural areas, no risk in cities, Red River delta area and the coastal plain north of Nha Trang.

Doxycycline
OR
Mefloquine
OR
Malarone

Chloroquine
PLUS
Proguanil

Risk great.
Chloroquine resistance prevalent. Some mefloquine resistance reported

Cambodia - Western provences.
Thailand - Near borders with Cambodia & Myanmar. Koh Chang.
Myanmar - Eastern part of Shan state.

Doxycycline
OR
Malarone
Malaria prophylaxis for Oceania

Risk

Country

Preferable
regimen

Alternative
regimen

Risk high.
Chloroquine resistance high.

Papua New Guinea - below 1,800 metres.
Solomon Islands
Vanuatu

Doxycycline
OR
Mefloquine
OR
Malarone

Maloprim
PLUS
Chloroquine
Malaria prophylaxis for South & Central America & the Caribbean

Risk

Country

Preferable
regimen

Alternative
regimen

Risk very low

Brazil - Except the Amazon basin region, Mato Grosso & Maranhao.

Avoid mosquito bites.
Risk variable to low, no chloroquine resistance present.

Argentina - Rural areas along northern borders only.
Belize - Rural areas except Belize district.
Costa Rica - Rural areas below 500m.
Dominican Republic
El Salvador - Only Santa Ana province in the West.
Guatamala - Areas below 1,500 metres.
Haiti - The whole country.
Honduras - The whole country.
Mexico - Some rural areas rarely stayed in by tourists.
Nicaragua - The whole country.
Panama - West of the canal.
Paraguay - Some rural areas.

Chloroquine
Proguanil
Risk variable or high, some chloroquine resistance present.

Bolivia - Rural areas below 2,500 metres
Ecuador - Areas below 1,500 metres. No malaria in Galapagos Islands nor in Guayaquil.
Panama - East of the canal.
Peru - Rural areas below 1,500 metres.
Venezuela - Rural areas other than the coast. Caracas is free of malaria.

Proguanil
PLUS
Chloroquine
Doxycycline
OR
Mefloquine
OR
Malarone
Risk high,
marked chloroquine resistance.

Brazil - Amazon basin region, Mato Grosso & Maranhao only. Very low risk and no chemoprophylazis required elsewhere.
Colombia - Most areas below 800m
Ecuador - Esmeraldas Province.
French Guiana - Especially border areas.
Guyana - All interior regions.
Surinam - Except Paramaribo and coast.
Amazon basin areas of Bolivia, Venezuela and Peru

Doxycycline
OR
Mefloquine
OR
Malarone

Proguanil
PLUS
Chloroquine